Watch: Ross Douthat discusses Trump and the Future of American Democracy with Mark Bauerlein and Sam Tanenhaus
Ross Douthat and Kirk on Campus Discuss the Trump Era at Hope College
Kirk on Campus recently hosted a conversation about Trump and the Future of American Democracy at Hope College in Holland, Michigan, featuring Ross Douthat, Mark Bauerlein, and Sam Tanenhaus. More than 600 attendees packed the beautiful Jack Miller Center for Musical Arts for an evening of serious yet lively conservative thought.
Jeff Polet, Hope College professor of political science, moderated the discussion and raised questions about how and why Trump won the election, whether or not his supporters should be encouraged, and whether his opponents' worst fears have been realized.
Why Donald Trump Won in 2016
Addressing the question about why Trump won in 2016, columnist Ross Douthat described the political moment as ripe for a populist like Trump due to real and perceived "elite failure" in the wars in Iraq and Afghanistan, and in trade deals that did not produce the broad, positive results for all Americans that many political leaders confidently asserted. Added to this elite failure was a middle class crisis, typified by an opioid epidemic that remained largely uncovered by the media until the press began to talk with voters in the areas where the Trump campaign was succeeding.
Professor Mark Bauerlein shared that the unscripted and often free-wheeling nature of the Trump campaign removed the wall between candidate and voter in a way that Hillary Clinton was never able to replicate, and would never think to attempt. Along those same lines, the historian Sam Tanenhaus pointed out that a lot of the election proved to be against Hillary Clinton, as Democrats have fared better in subsequent contests when she's not on the ticket.
Thinking about the Impact of Donald Trump on American Democracy
Responding to Polet's question about how the Trump presidency will impact the future of American democracy, the panelists offered a mixed bag. Tanenhaus was confident that Trump's ascendancy has altered both political parties. "I think the Republican Party in particular has been transformed…who will be the next wave of conservatives or Republicans who seem to be Trump like figures? If that happens in a lasting way, he's actually one of the most important people…it's hard to believe, one of the most important people in the history of American politics."
Bauerlein agreed with Tanenhaus about the transformative nature of Trump's presidency, but sounded a hopeful note about the future of statesmanship:
"He is going to be one of the most important figures in American politics, because what I see is all this seething, boiling over of so many different kinds of resentments…they all come into focus on this one character…he's the magnet, he's the lodestar that has made so many bad things emerge on many different sides. It may end up having a cathartic effect in that we may see out of the current condition a new statesmanship come along."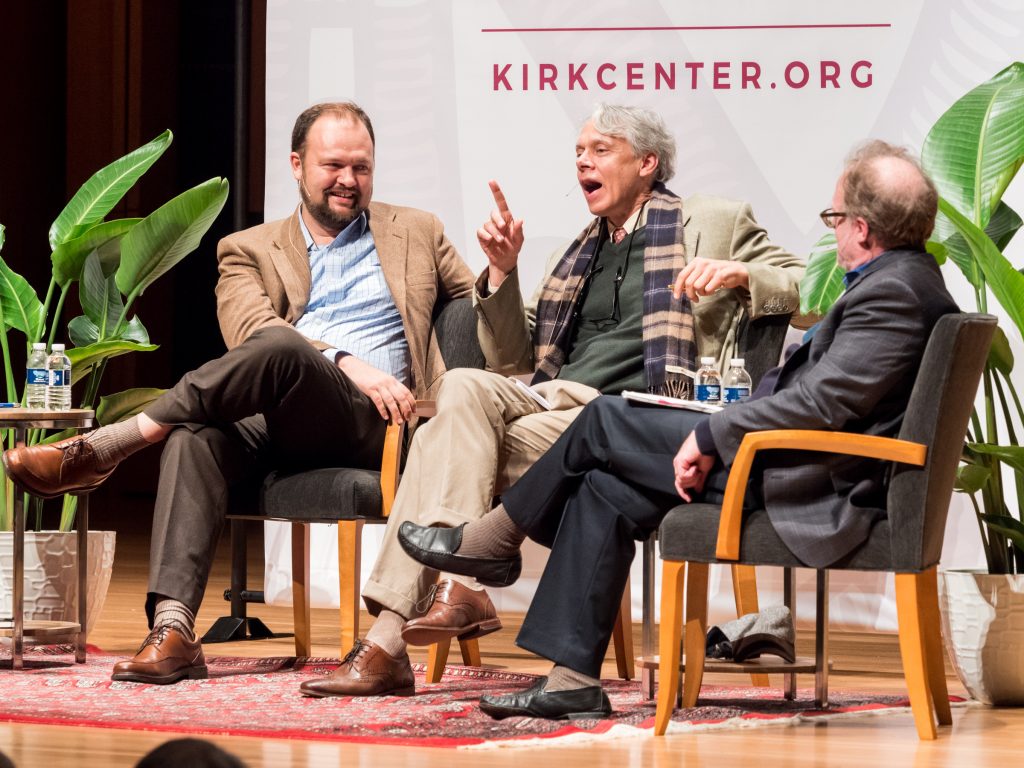 Douthat took a different tack on Trump's impact, suggesting the possibility that Trump is a sign of crisis yet to fully emerge:
"I'll not make the completely opposite case, but raise a different possibility which is that Trump is a sign that the system is not working, that the culture is in decay, that the economy is stagnant, and that elites are failing. But, it is a sign that our society's leaders could chose to ignore if Trump is defeated…It could be that Trump is a tremendously important world historical figure who's changing our politics…but I think we should all be open to the possibility that this is more like a sign of a crisis yet to come, but one that we're going to want to pretend didn't happen, and then the actual crisis is going to arrive in 15, 25, 30 years and we're going to look back and say Trump was a foretaste…and our mistake was wanting to get back to normal when really he was showing us that we needed bigger change in his own party and in our politics as a whole."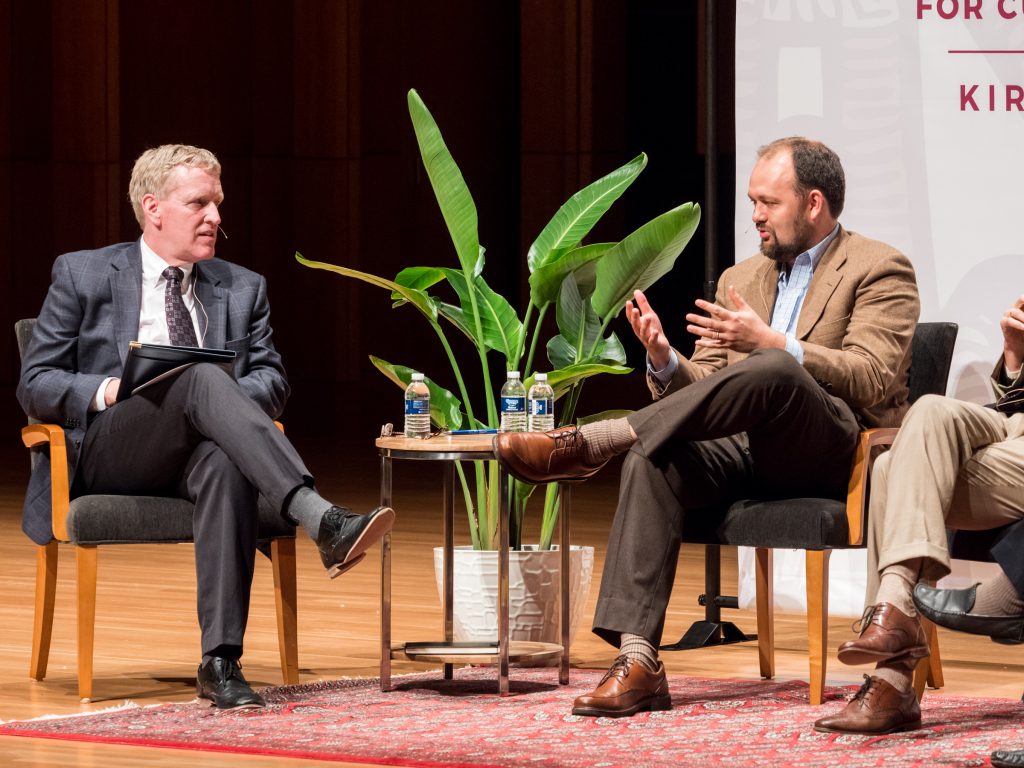 Local Press Laud Kirk on Campus Event as a Refreshing, Quality Discussion
The Holland Sentinel called the event "refreshing" and "collegial," "each person respected the others' points of view even if they didn't agree. There is a real appetite for that kind of discussion and we wish more conversations like that were available." Sentinel editor Sarah Leach added in a podcast recorded at the event, "I'm really impressed with the depth of the discussion and the level of analysis…no matter what your political affiliation might be, this was a quality discussion that would appeal to just about everybody."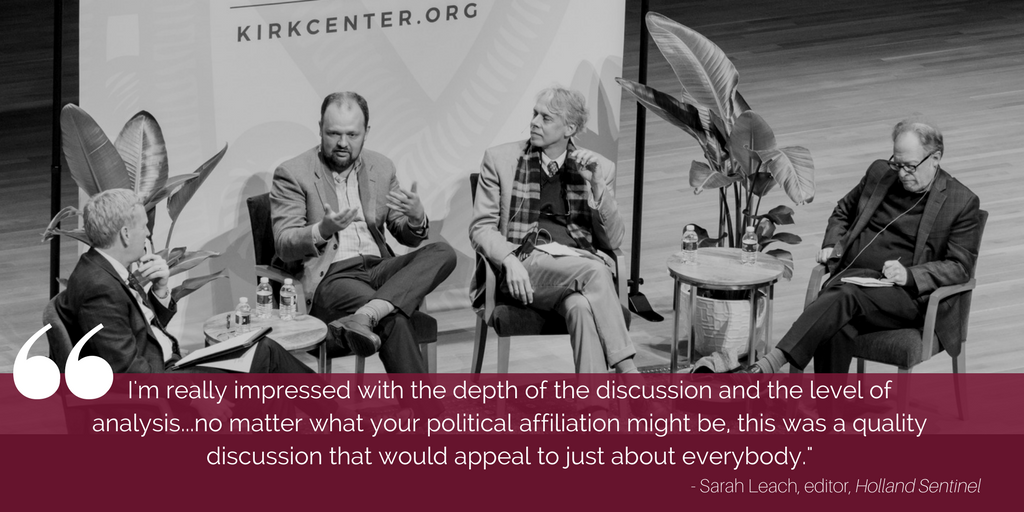 Help Kirk on Campus Keep Momentum
Creating forums like this is why Kirk on Campus was launched, and we're deeply grateful to Hope College'sdepartment of political science for helping to make this such a memorable occasion.
If you'd like to support our work to bring more of these types of events to campuses across Michigan and the Midwest, please consider making The Russell Kirk Center a part of your year end giving.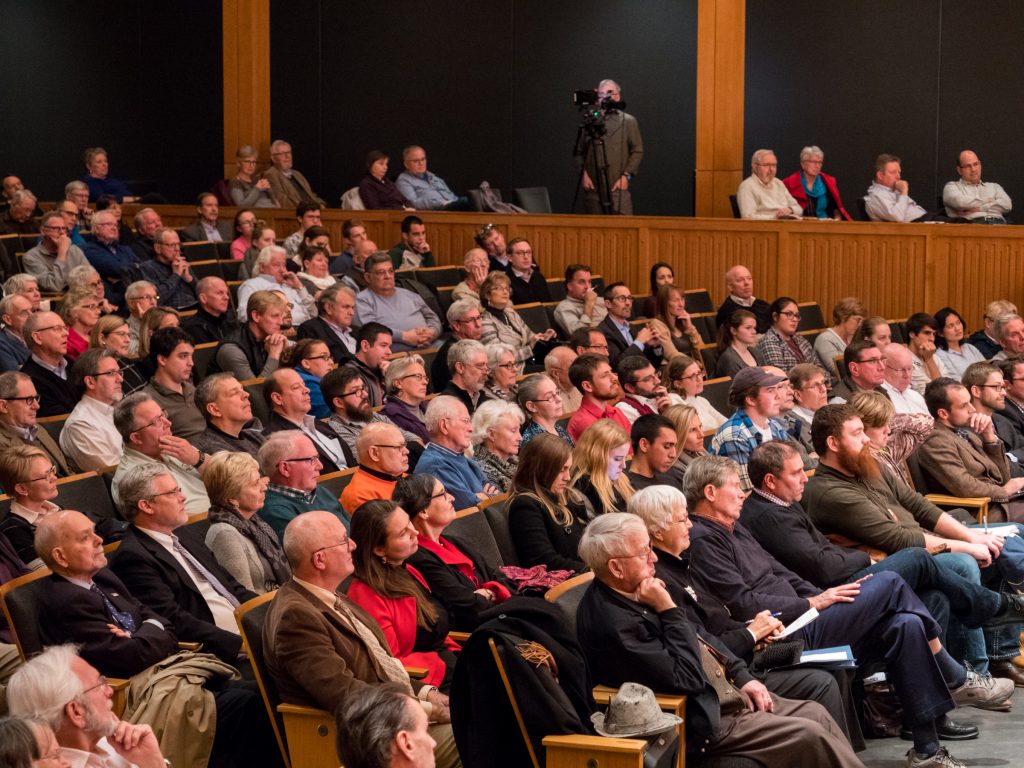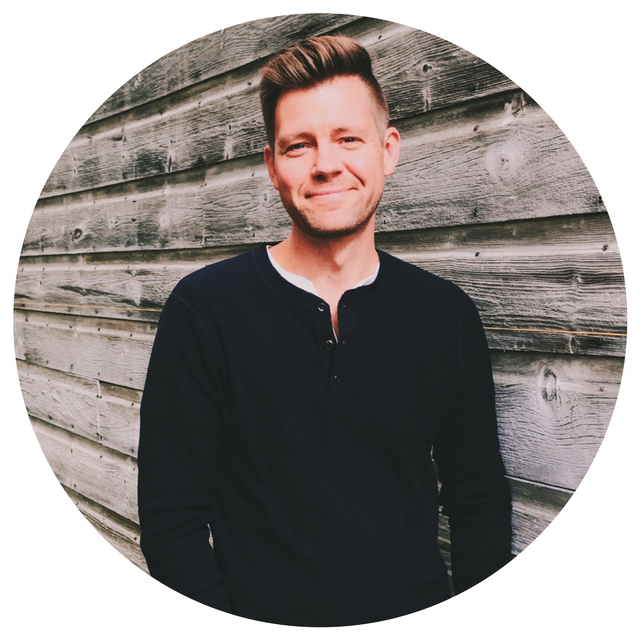 Chris Marlink
Chris is a husband, a father, and a sometimes soul shouter. He manages digital strategy for Kirk on Campus and plays at being a gentleman farmer. Follow his exploits at @cmarlink.
Get in Touch with Kirk on Campus
Address
P.O. Box 4
Mecosta, MI 49332